Low profile fixtures ensure optimized complete lighting solutions.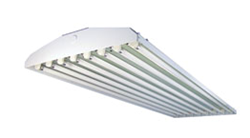 New York, New York USA
Transcend Lighting, Inc., leader in LED horticulture lighting, announced today the release of a line of T5 lighting fixtures. The fixtures have been developed to provide customers with system-level lighting solutions that will accept either 4 or 8 of the company's T5 LED lamps.
The new low profile T5 fixtures are made from precision formed aluminum with riveted construction. The fixtures are manufactured in the USA, and come with a 5-year warranty that matches the standard 5-year warranty for Transcend Lighting's T5 LED lamps.
According to Transcend Lighting CEO, Brian Bennett, "Customer response to our T5 LED lamps has been tremendous, and now we are providing customers with a total lighting solution if they don't already have a fixture installed." Bennett continues, "Today we are releasing a line of T5 fixtures worthy of the Transcend Lighting name. The 5-year fixture warranty makes a statement about the quality and confidence we have in the product."
Transcend Lighting's new T5 fixtures will be on display in booth #323 at the Jacob Javits Convention Center in New York City, June 16-17, at the Cannabis World Congress & Business Expo.
About Transcend Lighting
Transcend Lighting is a leading developer and U.S. manufacturer of LED lighting technologies. In 2015, the company emerged from the world-renown Silicon Valley incubator, Y Combinator, and is poised to transform the multi-billion dollar global horticulture lighting market. Transcend Lighting's patented and proprietary technologies enable unique advantages for horticultural solid-state lighting. Corporate headquarters is located in New York City, U.S.A. For more information, visit http://www.transcendlighting.com
Transcend Lighting Media Contact
Chuck DeMilo, VP, Marketing
800-205-7216
chuck(at)transcendlighting(dot)com