A Miami-based business plans to offer specially designed shipping containers with controlled environment and LED Lighting for agriculture and horticulture. The business was started back in 2011. After 40 years in the horticulture business in the U.S. and abroad, in 2011 Glenn Behrman left his position as Landscape Project Manager for the $4.5 billion Ho Tram Strip project in Vung Tau, Vietnam. He decided to return to the to the U.S. to focus on serving as co-founder and president of GreenTech Agro LLC.  The startup GreenTech Agro LLC produces a unique specially-designed shipping container with LED lighting and racks to grow plants, and a computerized system that monitors and controls light water and humidity levels to optimize plant growth.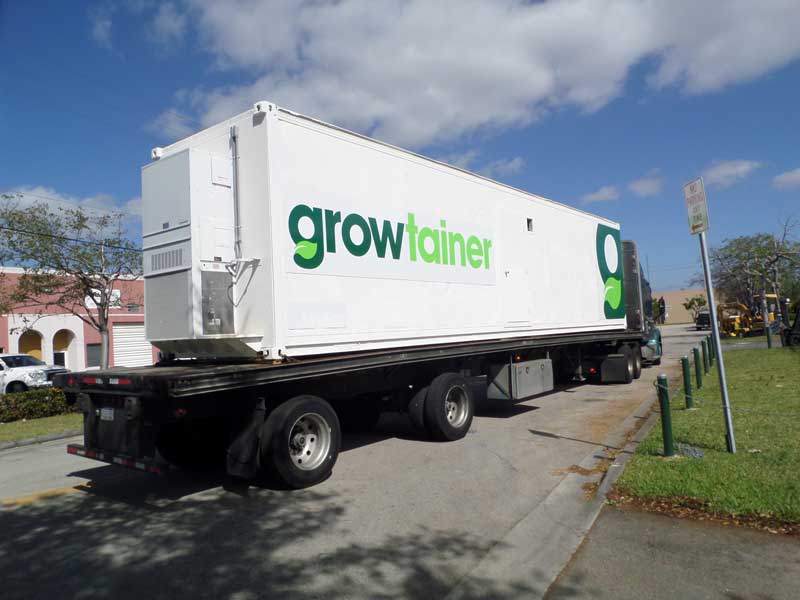 The modular shipping container called Growtainer™ container (patent pending) is a stackable and mobile vertical agricultural production environment. Behrman specifically modified  20' or 40' shipping containers to provide the optimum controlled vertical environment for growing a wide range of agricultural and horticultural products in all climates and environments. According to Behrman, using the Growtainer results in significantly higher yield in a shorter time than all conventional plant growth techniques. He contends that the Growtainer™ container, allows growth of almost anything, almost anywhere.
The Growtainer also serves as a mobile billboard, promoting with highly visible logos and graphics. Occasionally, the Growtainer can serve as a mobile classroom, giving students the opportunity to learn more about plant growth in controlled and sustainable environment. Also, the Growtainer can provide fresh, healthy vegetables to those students. It can serve as a mobile research center, and the controlled environment can be adjusted to simulate different, often difficult, harsh climates and remote environments.
The company has located the fully operational 40-foot Growtainer™ container prototypes at The Texas A & M AgriLife Research Center in Dallas. These units include a utility area that contains all pumps, tanks, and environmental equipment, including the company's proprietary ebb and flood "HydroCurve" VPD water and nutrition delivery system.
More akin to a spacecraft with environmental controls than a greenhouse, each chamber is a positive pressure environment.  The air pressure creates a natural barrier against disease and pests entering the production chambers. The company treats the exterior of each unit a ceramic paint developed by NASA for enhanced climate control. Each Growtainer™ container conforms to many of the APHIS and USDA standards for "Approved Greenhouses" including a pre-entrance and a disinfectant foot wash.
The growth chambers are outfitted with a proprietary, self-contained, stainless steel rack system (the Growrack™ rack system). The Growrack system can hold any number of vertical production and propagation levels. The height requirements of the crop being produced determine the number of levels. Each level of the 6- to 8-foot high Growrack system contains an appropriate number of LED fixtures. The LED fixtures produce custom wavelength combinations to alter the photosynthesis and photomorphogenesis response. Users can adjust the LED lighting for controllable, predictable and more robust growth and higher yields in a shorter period than conventional production methods.
The containers employ the company's proprietary PC-based sensor and control system, which they call the Growtroller™ control system. Unlike conventional watering that happens at set times or days, the company's HydroCurve VPD (vapor pressure deficit) system for ebb and flood water distribution tentatively called "HydroCurve" operates 24/7. The Growtroller monitors the environment around the plant based on each plant type's nutrient distribution, irrigation, size, growth, metabolism needs in real time. Based on these needs the Growtroller controls the Hydrocurve system of water and nutrient distribution.
GreenTech Agro noted on its website, "We have already developed a research collaboration with Texas A & M, and we are in final negotiations with a major international manufacturer of LED lighting for horticulture."
The company points out that the production opportunities for a Growtainer™ container consist of much more than food. The company's patent pending system has an open source architecture. The open source architecture gives companies the opportunity to develop and profit from growth recipes they develop using the Growtainer for products such as botanic-based pharmaceuticals, botanicals for flavors and fragrances, clean production vegetables for pediatric and oncology uses, seed sprouting, reforestation, rooting cuttings, and much more.
The website goes on to assert, "We believe that by introducing this system, we will provide a solution to production requirements that we are not even aware of. We're confident that now that we've built it, they will come."