At the SID 2018-Display Week, Visionox, for the first time, announced the "foldable AMOLED display All-in-One product" and the "Flexible AMOLED solution for automotive interior display." The All-in-one flexible and foldable AMOLED display features a display size of 7.2" when unfolded and can achieve a 1.6mm folding radius when folded.
Also, the company demonstrated its new "Flexible AMOLED display for automotive application concept" that can meet both image and video display quality demand even when bent. The automotive AMOLED display concept also integrates a unique interactive touch-display technology.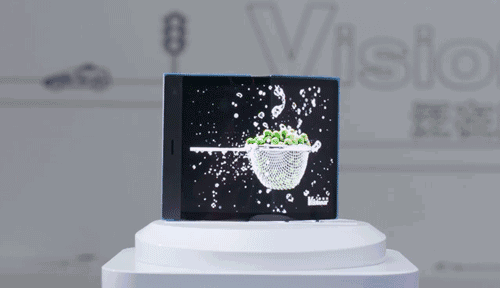 For an additional portion of the SID 2018-Display Week exhibit, Visionox set up an exclusive area, "Collaboration and Innovation," revealing the company's the cutting-edge display-related products, and functional components through technology collaboration and innovation.
Visionox Demos Display and Display Components at SID 2018-Display Week
These demo samples include a Touch and Display Driver IC (TDDI), a Thermally-Activated Sensitized Fluorescence (TASF), a Transparent display, an Ultra-thin display, and an Under-Display Fingerprint sensor. In addition, Visionox demonstrated a flexible AMOLED display application concepts, including a Smart cup, a Smart speaker, and an e-Book for better human-machine interaction.
Until now, Visionox has made AMOLED display products for fields of smartphones, smart home-appliances, smart-wearables, automotive displays, and AR/VR.