Each year, the Progress Committee of the Illuminating Engineering Society of North America (IESNA) considers hundreds of submittals for inclusion in the IES Progress Report, specifically seeking significant developments in the art and science of lighting. The following Osram Opto Semiconductors products were honored and selected for inclusion:
Oslon SSL (far-red) LED
Duris S 10 LED
Duris S 2 LED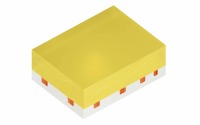 And the winner is - the Duris S 2
Osram's Oslon SSL (far-red) LED and Duris S 10 LEDs were both chosen for inclusion based on their high efficiency with the smallest footprint. Due to its new form factor with 150 degree optics that provides optimal/increased performance, the Duris S 2 LED was also selected for inclusion in this year's report.
"We are honored to be recognized by the industry and to have our products selected by the IES Progress Committee," said Michael Fiebig, Director Marketing and Business Development for General Lighting at Osram Opto Semiconductors. "Our employees should take great pride in this achievement as it goes to show our continued commitment to our customers and ongoing expertise by developing advanced lighting solutions to meet the needs of the industry."
The committee, which is comprised of experts in fields such as sources, ballasts/power supplies, controls, luminaires and design, evaluates the entries and accepts only those which are considered unique or offer significant improvements over existing products available in the industry.
Continuing to raise the technology bar, Osram offers products for a wide range of LED solutions and innovations. From developing the perfect solution for cost-conscious consumers, to creating high-quality, professional, flexible and efficient applications, Osram is setting standards and driving innovations in the industry.
Click here for more information on the IES Progress Report and the Duris S 2.