Orbis, a non-profit organization based in New York, that fights blindness around the world, operates the Flying Eye Hospital, the world's only mobile ophthalmic teaching hospital on board an MD-10 aircraft. The Flying Eye Hospital brings the very latest ophthalmological knowledge and surgical techniques to local hospitals around the world.
The plane allows Orbis to bring hands-on training to local eye care professionals in the heart of under-resourced communities around the world. According to Orbis, the Flying Eye Hospital also acts as a flying ambassador for improved eye care services.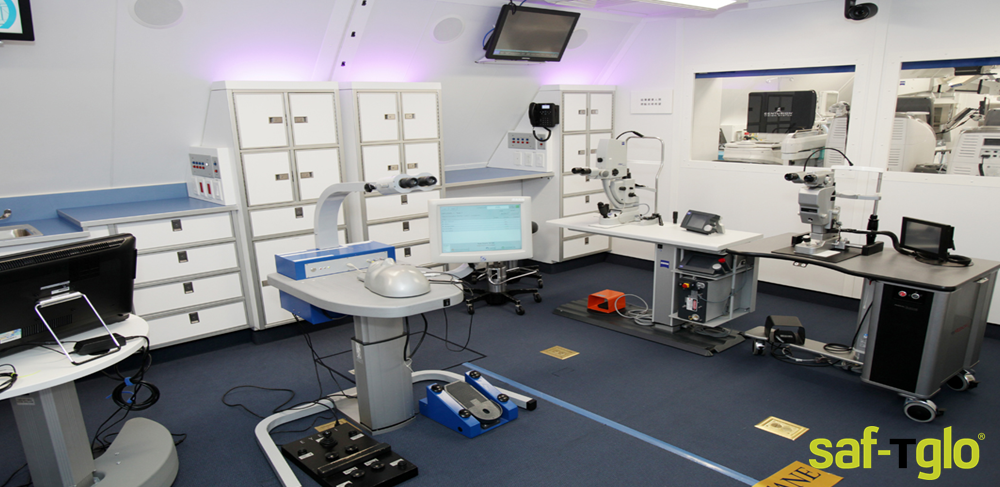 FedEx, the previous operator of the MD-10-30CF aircraft, subsequently donated it to Orbis. A team of volunteer FedEx pilots now fly the plane. Orbis selected saf-Tglo® from STG Aerospace to illuminate the floor path of the aircraft. Fitted with SuperSeal Lite®, Orbis has selected the narrow and bright floor path marking solution for Flying Eye Hospital that comes with a blue insert to complement the aircraft's interior.
The long-lasting, completely sealed, and hard-wearing system is certified and approved for installation on virtually every type of aircraft.  The system requires no power source and is fully charged by the cabin lighting within minutes. According to STG, the reliable saf-Tglo® system significantly reduces the maintenance and operational costs related to connection with traditional electrical systems. Because the system is much lighter, STG says it improves the aircraft's fuel efficiency.
Marcus Williams, Director of Sales & Marketing of STG Aerospace, commented, "We are delighted to be contributing to the safe and effective operation of the Orbis Flying Eye Hospital, which delivers the skills, resources and knowledge needed to deliver quality eye care. This project is also a further example of STG Aerospace's involvement in supporting airborne medicine having already supplied photoluminescent solutions for a UK helicopter-based emergency medical service."