Heliospectra AB, an LED lighting manufacturer for greenhouse cultivation, and American Cannabis Company, Inc., a cannabis industry consultant and provider of products, have sold one of the largest LED cultivation installations in the world to a licensee in Las Vegas, Nevada.
Phase I of this contract represents over $672,000 in revenue for Heliospectra's LX601C lamps. Phase one installation is scheduled for Q4 2015.  American Cannabis, Heliospectra and the operator collaborated to design the facility that will grow high-quality end product at lower cost than the HID or HPS lamps currently used in similar operations.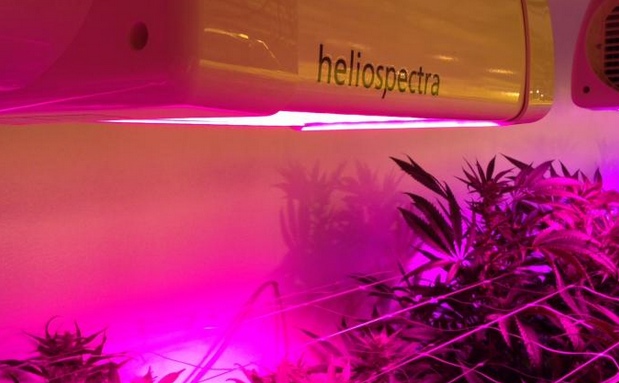 "Not only is this our largest deal to date, it is one of the largest indoor, horticulturalLED installations in the world," said Heliospectra CEO Staffan Hillberg
Hillberg said that this operator did their due diligence to learn about the Heliospectra product. "Light choice and smart facility design takes time, but smart partners understand that their decisions will have a sustainable, lasting impact," Hillberg said.
Through visiting Heliospectra's facilities in Sweden and touring current installations and asking the right questions, the operator learned where Heliospectra is going as a company.
American Cannabis Company's CEO Corey Hollister praised the operator's sustainable approach. "Our client looked at the long-term viability of their business and made an informed decision to ensure they have a sustainable model for now and for the future."
Heliospectra notes that the cannabis industry is a front-runner for indoor agriculture and higher revenue margins are allowing growers to invest in technology that results in lower costs of goods sold.
"With the operation in an environmentally sensitive location – we can demonstrate how Las Vegas will save electricity and conserve water.  Equally as important - the Heliospectra LX601C delivers the yield the market demands – our superior engineering ensures that.  The goal here is net revenue and that involves many factors beyond intensity and spectrum.  This operator did the math – they see that our unique heat dissipation solution, dynamic software and ability to collect data will have a substantial impact on their bottom line," said Chris Walker, General Manager USA, Heliospectra AB
Hillberg stated, "Growing a high-grade product and unique branding will fetch a premium, but ultimately, this is a commodity and commercial facilities can gain a serious competitive edge by employing our technology."