New Artist Series® and Vibrant Series® products enable precise, powerful beams of gorgeous light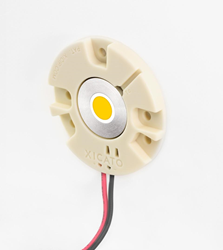 San Jose, California USA-
Xicato, a leading manufacturer of intelligent light sources, today announced the immediate availability of five new Xicato Thin Modules (XTM) and Xicato Core Arrays (XCA) in Artist Series® and Vibrant Series® V95, high fidelity color. The new LED light sources generate 2000 lumens of extremely high quality light from a surface just 9mm in diameter, enabling high levels of illumination and very tight beam control from a very small aperture fixture.
The Xicato Artist Series delivers reference source quality light in 2700K, 3000K, 3500K and 4000K color temperatures (CCT), with extremely high color rendering and fidelity, and precise gamut. The new 2000 lumen, 9mm Artist product can provide accurate, natural illumination of art, architecture, or merchandise, with rich reds and golds characteristic of halogen light sources.
The Xicato Vibrant Series V95 delivers outstanding color rendering with an enhanced color gamut that brings out the vibrant colors in merchandise such as clothing, jewelry, sporting goods and ceramics, as well as most commercial packaging. The tight, powerful beam enabled by the new 9mm, 2000 lumen Vibrant V95 can put a dramatic spotlight on commercial retail merchandise, on walls and murals, or other brightly colored subjects.
Xicato XTM and XCA products come with a 5-year warranty on initial color consistency (2×1 SDCM), lumen maintenance (L70/B0/F0) and color maintenance (C3/B0) that is unmatched in the industry.
The new Artist and Vibrant products are available today. Contact your local Xicato sales representative or distributor for more information, or go tohttp://www.xicato.com.
Visit Xicato at Light+Building in Frankfurt, Germany, March 13-18. Our light hearted booth - Xicato Man's headquarters - is both entertaining and informative, with regular demonstrations, invited speakers, and areas where visitors can play with BLE lighting control, learn about TM-30, and much more.
About Xicato:
Xicato designs and develops light sources and electronics that enable architects, designers and building managers to create beautiful, smart spaces in which people love to live and work. With thousands of installations around the globe, Xicato continues to be a leading supplier of high quality lighting solutions. Xicato is defining the future of intelligent light sources by integrating electronics, software and connectivity. Founded in 2007, Xicato is headquartered in Silicon Valley and has offices in China, Japan, Europe and the US.
For further information, visit http://www.xicato.com.
For additional information, contact:
Nicole Brockett
Marketing Manager
Xicato, Inc.
+1 408-472-7928
nicole.brockett(at)xicato(dot)com