Welcome to LIGHTimes!
The opportunities presented by the increasing rapid adoption of high brightness LEDs, in all their forms and applications, represents nothing short of a "digital revolution" for a previously "analog" world. LEDs are having a substantial disruptive effect on a number of established technologies, and where there is disruption, there is an intense need for information.
LIGHTimes Online is here to serve the information needs of the LED industry supply chain, as well as integrators and non-architectural application solution providers with technology, product and market news updates for these rapidly evolving devices. Our readership also includes LED packagers, technology enablers and service companies seeking the answers to how best to meet their customers' needs.
For architectural lighting and applications news of interest specifically to lighting designers, specifiers, and architectural lighting decision makers, along with luminaire designers, lighting system integrators and lighting subsystem developers, please visit our sister publication, Solid State Lighting Design.
---
2012 SSL Summit Series keeps its focus to Smarter, Better Lighting
Launched in 2008, the SSL Summit has tweaked its mission to facilitate a future of better lighting. October's New York City meet really hit the target, and we're picking up the pace for LA/Long Beach April 3-4, 2012. The Summit brings together key lighting influencers with industry thought leaders, pioneers, and innovators from the across the solid state lighting eco-system to engage their visions of the future of lighting.
Quality is the gate, the future is the focus... Showcase participants and sponsors are vetted to separate the wheat from the chaff... Look into the series information at www.SSLsummit.com for the details. Sponsorships and showcase positions are available now, and event registration will open in early January.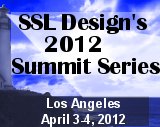 ---