Sponsored Links
For Europe/Asia:
---
Editorial: The Dream Bulb That LEDs Will Enable

... As a result of a midnight premier of Star Trek - Into Darkness last night (this morning, technically), the forward-looking technology thoughts are flowing judiciously. Apparently I walked into the conclusion of the discussion on when and where the movie was happening, only to catch the part where I...
Read the editorial...
(if it resists... go here)
Features:
Welcome to your Single and Multi-chip Packaged LEDs news channel!
The opportunities presented by the increasing rapid adoption of high brightness LEDs, in all their forms and applications, represents nothing short of a "digital revolution" for a previously "analog" world. LEDs are having a substantial disruptive effect on a number of established technologies, and where there is disruption, there is an intense need for information.
LIGHTimes Online is here to serve the information needs of the LED industry supply chain, as well as integrators and non-architectural application solution providers with technology, product and market news updates for these rapidly evolving devices. Our readership also includes LED packagers, technology enablers and service companies seeking the the answers to how best to meet their customers' needs.
For architectural lighting and applications news of interest specifically to lighting designers, specifiers, and architectural lighting decision makers, along with luminaire designers, lighting system integrators and lighting subsystem developers, please visit our sister publication, Solid State Lighting Design.
---
SSL is booming and the 2011/2012 Summit Series is coming back to keep the message on quality
Launched in 2008, the SSL Summit will bring the quality story to New York City in October 2011, and then back to LA in March 2012. At every one of the Summit events, the feedback remains consistent: Just what we need, do it again soon. The Summit brings together lighting decision makers with industry thought leaders, pioneers, and innovators from the across the solid state lighting eco-system.
Continuing the tradition, 2011/2012 will continue to be all about quality, quality, quality. Showcase participants and sponsors are vetted to separate the wheat from the chaff (have your IES LM-79 test reports ready!). Last year's event in NYC included representatives of over 100 million square feet of developed property, and the one thing we don't want to leave out for 2011 is you! Look into the series information at www.SSLsummit.com for the details. Sponsorships are available for the full series.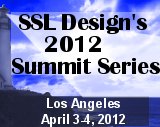 ---
Verticle Debuts UV LED Chip on Cu Substrate
LIGHTimes News Staff
May 15, 2013...Verticle, an LED chip maker in Silicon Valley with production in Korea, has come out with a hexagonally shaped UV-LED on a copper substrate that can be driven at high current. The chip employs what the company calls Chemical Chip Separation Technology between the Cu substrate and the GaN-based UV-LED. Verticle points out that despite their numerous advantages UV LEDs tend to have lower optical power due to lower internal quantum efficiency (IQE) compared to blue LEDs.
While improving the IQE of UV epitaxial wafers is a long-term prospect, Verticle contends that an alternative way to boost the overall output of a UV-LED is to drive more current into the UV-LEDs, and manage the resulting heat. The company states that heat-related droop is more of an issue in UV-LEDs than in blue, and therefore, the company reasons, one of the main challenges of UV LEDs is lowering junction temperature.
In order to operate at higher current injection conditions and dissipating heat more efficiently, Verticle's UV-LED chip is constructed with a copper substrate. As shown in the accompanying image that contains both graphs, Cu base vertical chip's thermal resistance (Rth) is 2K/W lower than GaN/Si vertical chip. As a result, junction temperature (Tj) of GaN/Cu is lower than GaN/Si. It is noted that the junction temperature difference is 2 degrees C at 350 mA current injection between two chips, however, the difference become larger (6 degrees C) at 1A current injection.
The company points to testing it conducted that shows that a vertical Cu-base UV-LED chip has higher radiant flux than a lateral chip fabricated with same epitaxial wafer. Furthermore, Verticle says that its UV-LED chip on a Cu substrate can be driven at a higher current than other vertical chips constructed with different substrate materials. For example, the company says that Verticle's GaN/Cu UV-LED chip does not saturate over 1A, while GaN/sapphire UV-LED chip start to saturate after 500mA. This suggests that a GaN/Cu chip has higher heat dissipation capability compared with GaN on other substrates, giving Verticle's Cu-base UV-LED chip distinct advantages for applications in which high current injection and good thermal properties are required.
Verticle's hexagonal UV-LED chip's (45 Mil size) radiant fluxes are measured at 416mW at 350mA current injection, 787mW at 700mA, and 1025mW at 1A for the 392 nm wavelength, respectively. In addition, the company notes that it's hexagonal "Honeycomb" chip shape offers a higher extraction efficiency when packaged with a circular lens as a result of the near circular beam profile.
Vishay Intertechnology Introduces 850 nm and 940 nm IR Emitters and Silicon PIN Photodiode for Infrared Touch Panels
LIGHTimes News Staff
May 14, 2013...Vishay Intertechnology, Inc. of Malvern, Pennsylvania USA, has introduced two new high-speed 850 nm and 940 nm infrared emitters and a package-matched high-speed silicon PIN photodiode with high radiant sensitivity from 780 nm to 1050 nm. The VSMG10850, VSMB10940, and VEMD10940F offer an ultra-wide ± 75° angle of half intensity in a compact side-view surface-mount package measuring 3 mm by 2 mm and a height of only 1 mm.  The IR LEDs come in untinted plastic packages and provide high radiant intensity of 1 mW/sr typical at 20 mA, which Vishay claims is up to 33% higher than comparable devices on the market.
The IR LEDs have fast switching times of 15 ns. The 940 nm VSMB10940 emitter features GaAIAs multi quantum well technology and a low forward voltage of 1.3 V typical. The 850 nm VSMG10850 emitter offers the company's GaAIAs double hetero technology and has a forward voltage of 1.4 V.
The VEMD10940F photodiode features a daylight blocking filter matched with 830 nm to 950 nm IR emitters, including the VSMG10850 and VSMB10940. The device offers a reverse light current of 3 µA, low dark current of 1 nA, 920 nm wavelength of peak sensitivity, and a low 0.1 %/K temperature coefficient of light current.
The low profiles VSMG10850, VSMB10940, and VEMD10940F are optimized for use in IR touch panels for devices such as printer displays, eBook readers, smartphones, tablets, ultrabooks, and GPS units.
The devices provide a floor life of 168 hours and moisture sensitivity level (MSL) of 3 according to J-STD-020. The emitters and photodiode support lead (Pb)-free reflow soldering and conform to Vishay's "Green" standards. Samples and production quantities of the new IR emitters and photodiode are available now, with lead times of six to eight weeks. Pricing for U.S. delivery in 5,000-piece quantities starts at $0.06 per piece for the VSMB10940, $0.08 per piece for the VSMG10850, and $0.06 per piece for the VEMD10940F.
Philips Offers Luxeon 3535 2D, a 2-Die Packaged LED
LIGHTimes News Staff
May 7, 2013...Philips Lumileds introduced the LUXEON 3535 2D. Combining two LED chips into a single package, Lumileds states the new package enables a reduction in LED count by 50% in retrofit lamps, consumer downlights and diffuse industrial lamps. The Luxeon 3535 2D achieves 140 lm/W efficiency for cool white light at 4000K and minimum 80 CRI.
"This is an exciting breakthrough, because lighting designers can take advantage of a high lumen package with high efficacy while using significantly fewer chips per fixture," said Rahul Bammi, VP of Product Management at Philips Lumileds. "For example, a 50W PAR20 lamp can be achieved using only 4 LEDs. Alternatively, a 40W A19 lamp that previously required 14 LEDs can now be created using only 6."
The new mid-power LEDs are offered across a full spectrum of correlated color temperatures (2700K-6500K) with a minimum CRI of 80. Versions with CRI 70 for outdoor applications and CRI 90 for high end indoor applications are planned for future release. The Luxeon 3535 2D line operates at 0.5W to 1W, delivering up to 130 lumen in the compact 3535 form factor. It is rated at 100mA and can be driven up to a maximum of 200mA. The Luxeon 3535 2D supports Energy Star® certification requirements up to 25,000 hours at 85°C and 150mA.
Philips Lumileds also introduced its first low-power LED solution today, the Luxeon 4014. The company designed this high efficiency rectangular LED specifically to address linear and omnidirectional lighting applications such as under-cabinet and cove, refrigerator lighting and the retrofit LED market. The Luxeon 4014 comes in a 4.0x1.4x0.7 mm package. It can achieve an efficacy of 160 lm/W at 4000K and CRI of 80.
Everlight Expands 5630 Mid-Power LED Portfolio
LIGHTimes News Staff
May 2, 2013...Everlight Electronics based in Shulin, New Taipei City, Taiwan, introduced the ultra-thin 5630D mid power LED series. The 5630D mid power LED series (part number 62-217D) is especially suited for LED light bars, standard and omni-directional LED light bulbs, and LED high power bulbs.
Everlight's 62-217D comes in a standard 5630 package in a 0.5W (150mA) version for 40/60W bulb retrofits and a 0.2W (60mA) version that is suited for light bars. Both white top-view LEDs measure just 5.6 mm x 3.0mm and are very thin at just 0.65 mm. They are available across a complete ANSI CCT range of 2700K (warm white)to 6500K (cool white). The LEDs have a CRI of min. 80Ra and a lumens output of 50lm (for warm whit) and 55lm (for cool white). The cool white 0.5W version is offered up to 9000K CCT and achieves an efficiency of 115lm/W at 5700K.
Everlight boasts that it can produce more 200 million of its 62-217D (5630D) LEDs per month. The company says that this high capacity and throughput allows for strong cost competitiveness, consistent availability and short lead times. The 62-217D (5630D) series is Pb-free, RoHS compliant, matches ANSI binning. The LED series, which was already tested successfully to 3,000 hours, is currently undergoing LM80 testing to demonstrate its stable lumen maintenance.
Luminus Devices to Supply Big Chip LEDs for Vision X Lighting's Long Throw Spot Lighting Applications
LIGHTimes News Staff
April 30, 2013...Luminus Devices, Inc. a maker of big chip LEDs and Vision X Lighting announced a strategic partnership to develop and produce LED technology for lighting applications that are currently dominated by High Intensity Discharge (HID) lamp technology. The companies expect that the collaboration between Luminus, a producer of high brightness LEDs, and Vision X Lighting, a supplier of aftermarket automotive lighting fixtures, will create a new class of LED lighting products with the power and punch of HID based systems.
"We assessed many high brightness LED products from manufacturers throughout the industry, but ultimately decided to partner with Luminus Devices because their Big Chip products perform at a level that sets them apart," said Tony Georgitsis, president of Vision X Lighting. "With a Luminus LED at the heart of the light fixture, we can deliver useful light at distances that could only previously be achieved with HID lamps. This is a true breakthrough in automotive aftermarket lighting, and we are thrilled about the partnership with Luminus, and the exciting new products we will be releasing in the coming months."
Vision X Lighting recently launched its first product using a single Luminus LED called Light Cannon. Light Cannon can produce a usable beam of light at a distance of more than 1,000 feet.
"We couldn't be happier to announce our partnership with Vision X Lighting, a world-class company at the forefront of innovation," said Jim Hunter, VP & general manager of global commercial markets at Luminus. "At Luminus, we excel at providing our customers with high brightness LEDs that produce thousands of lumens. As demonstrated through our partnership with Vision X Lighting, we enable our customers to create exciting lighting products capable of delivering high brightness light at great distances with unprecedented center beam candle power."
Osram Opto Semiconductors Releases New Sensor/Emitter for Smartphones
LIGHTimes News Staff
April 25, 2013...Osram Opto Semiconductors has added a very effective and low power consuming sensor to its portfolio of proximity and ambient light sensors. The company says that the compact SFH 7776 sensor registers the ambient brightness even behind dark smartphone covers and prevents unintentional responses from the touch screen during telephone calls. The company contends that this makes it even easier for smartphone designers to control the backlighting and touch functions of displays.
The digital SFH 7776 sensor contains an infrared LED (IRED) and two detectors and performs two different functions. It registers the ambient brightness in order to control the display backlighting so that it can always be easily read but consumes as little power as possible. It also deactivates the touch function on the display as soon as you hold the phone up to your ear during a phone call. The sensor sensor emits infrared light that is reflected by approaching objects, such as your ear.
The SFH 7776 sensor has a working range of up to 16 centimeters and compact size enables it use in smartphones and other mobile devices. Osram notes that thanks to the excellent sensitivity of the detector the component does not need lenses to bundle the emitted infrared light. This reportedly allows the sensor to have the small height of only 1.35 millimeters. With its black casing the sensor is virtually invisible even behind transparent phone covers. Its low power consumption is also an important factor in terms of its suitability for mobile devices – in standby mode it only needs 0.8 mA.
The very sensitive SFH 7776 has a very low detection limit of 0.002 lux (lx), and can therefore even be used behind dark casing panels. Designers can place the sensor anywhere and do not need a special translucent window.
"The SFH 777x series gives our customers a complete family of multifunctional sensors for an extremely wide range of phone covers," said Dirk Sossenheimer, who is responsible for intelligent sensor applications at Osram Opto Semiconductors. Furthermore, the company says that the SFH 7776 is designed so that the ambient light sensor doesn´t react to short-term fluctuations in the brightness of various lamp types, caused for example by changes in the power supply frequency. This ensures that the display backlighting remains constant.
Osram claims that Crosstalk – an effect in which the emitted infrared light is reflected by the smartphone casing directly onto the receiver – is eliminated by the SFH 7776 in the component itself. For this reason, the company says that designers no longer need to provide separate optical barriers between the IRED and the detector.
Since the SFH 7776 covers the complete working range from 0 to 16 mm it would even react to direct contact ("zero distance detection"). The touch function of the display is therefore reliably deactivated even in marginal situations. "Overall, the SFH 7776 overcomes various challenges in terms of proximity and ambient light detection in the component itself, so designers can integrate the product in smartphones relatively easily," added Dirk Sossenheimer.
Osram Opto Semiconductors Now Offering Duris P 5 mid-power LEDs in Color
LIGHTimes News Staff
April 25, 2013...Osram Opto Semiconductors, has come out with five color new versions of the Duris P 5 mid-power LEDs. Like the white versions, the new color versions are said to have high luminous efficacy from a compact form factor. The LEDs are ideal for architecture lighting and for hotels and restaurants.
The five color versions of Duris P 5 are: "deep blue" (450 nm), "blue" (470 nm), "true green" (528 nm), "yellow" (590 nm) and "red" (615 to 625 nm). The LEDs employ LED chip technologies from Osram, based on either the InGaN (Indium Gallium Nitrite) material system or InGaAlP (Indium Gallium Aluminum Phosphite) depending on the wavelength.
The company says that low forward voltages and optimized light extraction result in high luminous efficacies for all of the new LEDs. The "deep blue" version, for example, delivers a light output of 140 mW (at 100 mA and 25 şC), corresponding to a typical efficiency of 48 percent. Efficiency is defined as the ratio of the amount of light produced to the amount of power consumed.
As members of the mid-power class, the color versions of Duris P 5 are ideal for linear, area or omnidirectional lighting applications in which the light has to be distributed as uniformly as possible. Color mixing is also said to be much easier in applications involving several colors.
"The color Duris P 5 versions will give our customers even greater freedom in designing luminaires. A good example is the combination of white and colored mid-power LEDs within a luminaire," said Martin Wittmann, Product Manager Marketing SSL at Osram Opto Semiconductors, and added, "The use of the Duris power class also reduces system costs while at the same time improving the distribution of light and simplifying thermal management."
Like the white versions in the P 5 family, the package technology of the colored Duris versions allow them to withstand extremely harsh conditions and increasing corrosion resistance compared to conventional mid-power LEDs. The company says that the small component dimensions of only 2.6 by 2.2 mm also allow good optical control in connection with secondary optics.
Osram Opto Semiconductors points to architectural and signage applications as uses for the new LEDs. The company also mentions the possibile use of the Duris color versions in "remote phosphor" applications in which the converters needed to generate white light are not attached directly to the chip but are illuminated by "deep blue" LED from a certain distance, causing them to luminesce. The company says that this remote phosphor technology results in uniform distribution of light and high luminous efficacy.
The color Duris P 5 versions debuted at the Osram booth 1001 at Lightfair 2013
Samsung Introduces New, High Efficacy Chip on Board LED Packages
LIGHTimes News Staff
April 23, 2013...Samsung Electronics Co., Ltd., has introduced a new 129lm/W high efficiency, chip-on-board (COB) family of LED packages, LC013/26/40B. The LC013/26/40B series features a compact light emitting surface (LES), designed for use in high performance indoor and outdoor lighting, and ideally suited for spotlight applications. The series, features a 129lm/W light efficacy at 80 CRI (Color Rendering Index) and 5000K CCT (Correlated Color Temperature) and is available in 2700K, 3000K and 4000K versions. Samsung says that by adopting chip-on-board technology that utilizes metal core PCBs, the new COB family offers outstanding color uniformity and light quality, while achieving a high luminous flux of up to 6000lm in a single LED package. "Samsung proudly presents its new 13,26, and 40W, 129 lm/W high performance COB package family, based on our world class chip and phosphor technology," said Jaap Schlejen, senior vice president, LED lighting sales and marketing, Samsung Electronics. "The new COB family, is designed to meet Zhaga specifications, and has a low thermal resistance and superior heat dissipation for high reliability." The Samsung COB family will be available in May. Further additions to Samsung's COB package lineup will be made later this year, to offer even more options for customers. The Samsung's COB family will be displayed at LIGHTFAIR International 2013 (Booth #2645) in Philadelphia from April 23rd-25th.
You could own this space...
For information on our plans and to reserve promotion space contact
Send us an email
or call +1 (512) 257-9888